Fish Pond Cleaners Brisbane & Gold Coast
Home Style Fishponds are Brisbane's premier fish pond and garden pond cleaning specialists. Whether you need a regular pond cleaning service, an emergency clean or someone to look after your pond while you're on holidays, the team at Home Style Fishponds are at your side. We also do fish pond waterproofing and new pond construction.
Offering services such as pond care, cleaning, maintenance, pond vacuuming, and replacing or repairing pond filters and pond pumps, with Home Style Cleaning, your pond will be looking as good as the day it was first installed.
Our team of Brisbane pond cleaners are friendly, efficient and professional, ensuring you get a great job each and every time. We'll provide you with a quote, as well as giving a full explanation of what cleaning and maintenance services you will need and how you can keep your pond looking great in between professional cleans.
Pond Care
Looking after your pond is the only way to ensure you have a healthy looking pond, keeping plants and fish healthy and alive. Home Style Cleaning can provide regular pond care so you don't have to. If your pond has small fish, koi and goldfish or even native fish our pond cleaning caters to all fish.
Cleaning & Maintenance
Regular cleaning and maintenance of your pond is essential. Whether it is a regular clean to ensure water health or a deep clean to get rid of algae build up, we can help with this essential element of owning a pond.
Plants and Decorations
Plants and decorations are a great way to help your pond stay healthy as well as looking good. Our team can suggest some of the best plants and decorations for your pond, and install them for you.
Professional Pond Cleaners
Based in Brisbane's east, Home Style Pond Cleaning provides a professional pond cleaning service including maintenance, regular or one off cleaning, plant health and decoration maintenance. Whether you have a garden pond as part of your sculptured lawns or a fish pond greeting visitors as they enter your property, our team can help ensure your pond stays healthy and looks great.
Ideal for busy homeowners, we are flexible on time so you can choose a day and time that best suits your needs.
Why Choose Home Style Fishponds
There are many reasons why you should consider Home Style Fishponds when considering engaging a pond cleaner. Here are some that we are really proud of.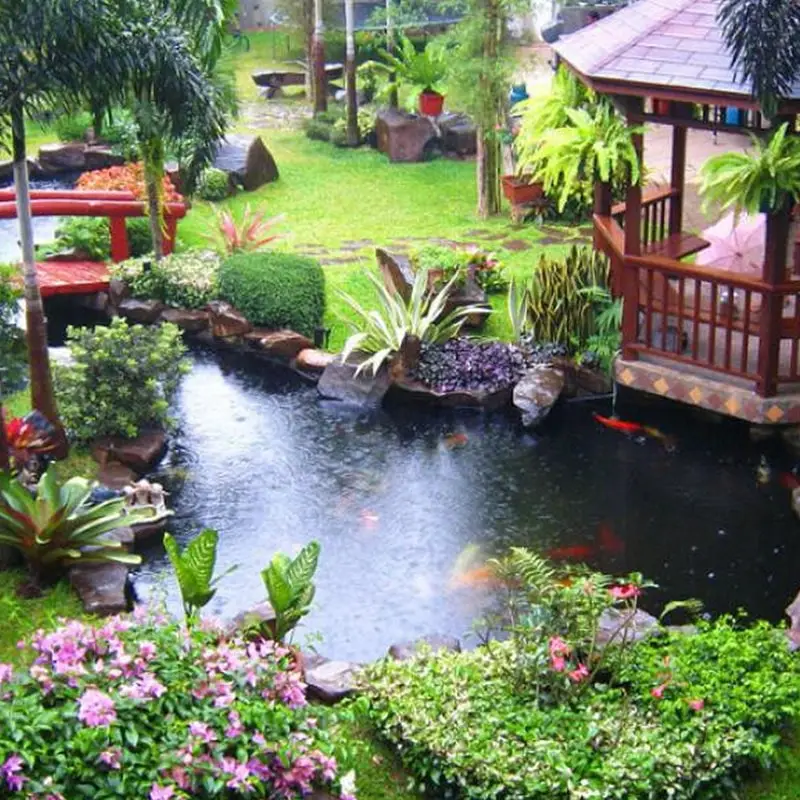 Local Fishpond Cleaners You Can Trust
Based on the south side of Brisbane we deliver pond cleaning services are not only affordable but also high quality.
At Home Style Fishponds, our entire team is dedicated to ensuring your Brisbane garden pond or fishpond is clean, healthy and maintained regularly, leaving you the time to enjoy some extra time spent with your family doing the things you love.
Our services are ideal for busy individuals who simply don't have the time to maintain their ponds or run into a problem like green or yellow water.
We are not like other cleaning companies, in fact working with other companies got this business started. We found that the fishpond cleaning can be done faster, more efficient and cheaper. Putting a personal touch to every job is what ensures the quality of our service.
Give Will a call to arrange a free quote.
We are thrilled to announce an expansion in our range of services! Not only are we dedicated to ensuring that your fishponds stay pristine and vibrant, but we now have more to offer to enhance and maintain the beauty of your entire outdoor space. 1. Fish Pond Cleaning: Every [...]
At Home Style Fishponds, we pride ourselves on our dedication to keeping fishponds not only aesthetically pleasing but also a thriving habitat for aquatic life. If you have a fishpond or are considering installing one, regular maintenance is essential to ensure it remains a clean and healthy environment. Here's our [...]
A pristine fishpond is not just a sight to behold but also a serene retreat for homeowners and nature enthusiasts. However, maintaining this oasis involves more than just feeding the fish. Proper cleaning, routine maintenance, and ensuring the pond remains waterproof are essential. Here's our comprehensive guide, complete with tips [...]
What Our Clients Say
Thank you for doing an amazing job cleaning my fish pond.
The pond looks awesome and all my fish are happy and healthy again.
Great service and price. I am Glad I've engaged these guys to look after our fishpond. Thanks
Thank you Will for looking after our fishpond. The algae issue finally resolved. Very happy with the service.
Very friendly and knowledgeable people a pleasure to do business with.
Will has been great to deal with, friendly, professional and hard working. The fish pond has been kept clean and we're happy with the work so far. If you need your fish ponds cleaned, look no further, Will is your man.
Home Style Fishponds offer professional, knowledgeable and affordable fishpond cleaning services. Highly recommend!